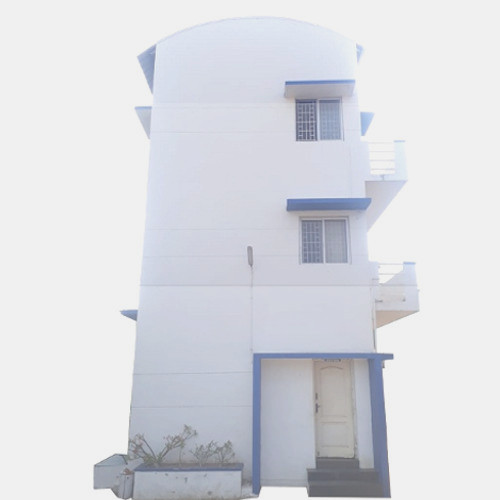 Office premises
1344 Sq Ft office with all necessary communication facilities like Wi fi, Internet, Camera, Phone, CUG Mobiles.
Full fledged office with 24 Hrs online ERP System for the departments marketing, sales (commercial), purchase, production, quality, and logistics.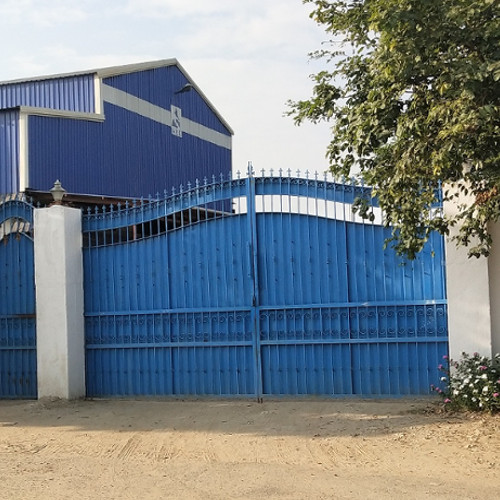 Factory premises
Company owned land area: 40670 Sq Ft.
Building covered area: 26164 Sq Ft.
Scope for further expansion: 25%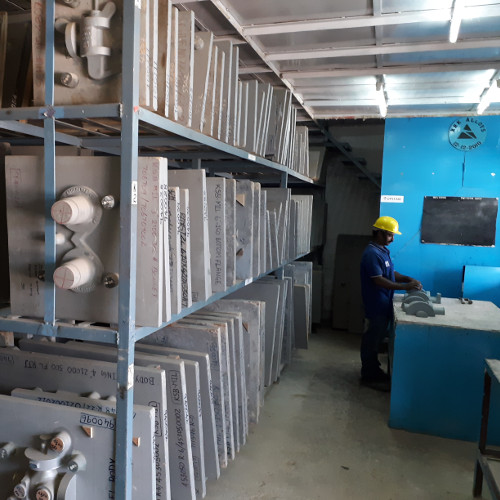 Pattern Shop facility
CAD / CAM facility for Method Drawing.
Prototype file with all development trial data for each and every Individual items.
Complete facility for teak wood and aluminum pattern making, mounting and repairing and Storage.
Customer wise pattern storage in racks.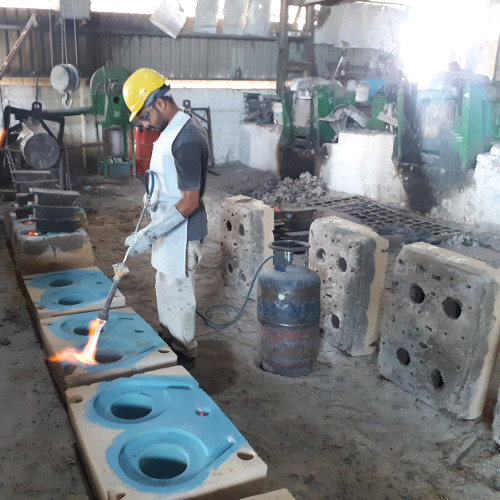 Moulding facility
Hand Moulding CO2 Process Sand Casting.
CO2 Process cores, Shell cores, Airset (No Bake) cores and oil cores.
750 kg, 250 Kg Sand Mixer & 100 Kg Sand Mixer. 15 HP Screw Compressors.
The moulding department is supported by 3 Ton overhead hoists to handle the closing and shifting of moulding boxes.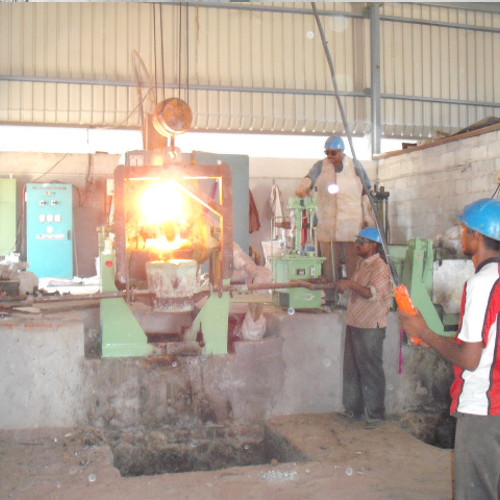 Melting Facility
250 KW Medium Frequency Induction Furnace with 300 Kg & 500 Kg double crucible.
2 Nos 750 Kg Tea pot ladles.
2 Nos 350 Kg Tea pot ladles.
2 Nos 100 Kg Hand Shanks.
Ladle pre heating arrangements
Pyrometer for Molten metal Temperature measurements.
Dust collector facility for environmental protection.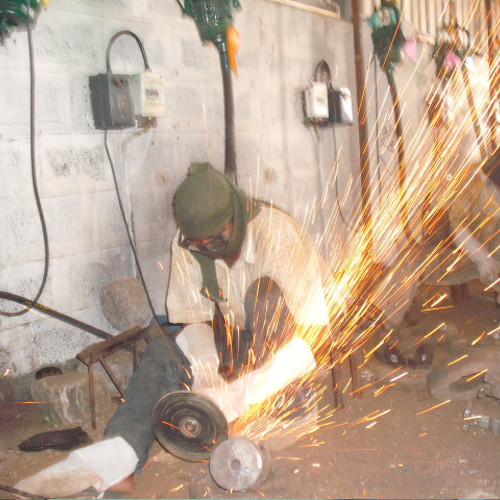 Fettling facility
3000 Kg Bogie hearth Electric Heatreatment Furnace.
Full equiped 50000 Lit Capacity Water Quench Tank
500 Kgs capacity hook type shot blasting machine.
3 Nos Swing Frame Grinding Machines.
15 Nos Rotto Fettle and 3 Nos Rotto fas Grinding Machines.
3 Nos 600 Amps Welding Rectifier with air arc goughing and pre heating arrangements.
Acid pickling and passivation facilities.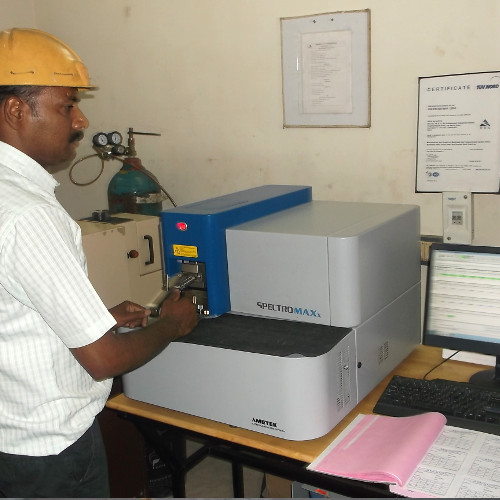 Laboratory & Testing facilities
Spectrometer: Spectromax (Germany) make, 32 elements analyzing capacity.
UTM: 40 Tons capacity Computerized Universal Testing Machine for Tensile strength, Yield strength and Elongation with Electronic Extensometer Attachments.
Impact: 300 Jules Impact Testing machine with 8mm striker
Hardness tester: 3000 Kgs Krystal make Brinell Hardness Testing machine.
Sand testing: All the necessary sand testing equipments.
IGC Testing facilities for Practice A,B,C & D methods.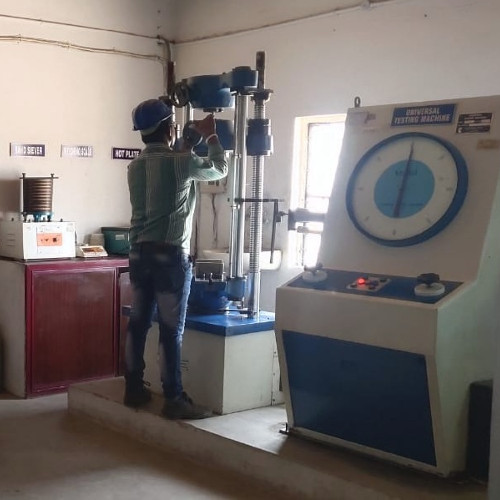 Test Certificates
RRK Alloys provide the following certificates to the customer for every heat / batch supply.

EN 10204 Type 3.1 Test Certificate
EN 10204 Type 3.2 Test Certificate
IBR Certificate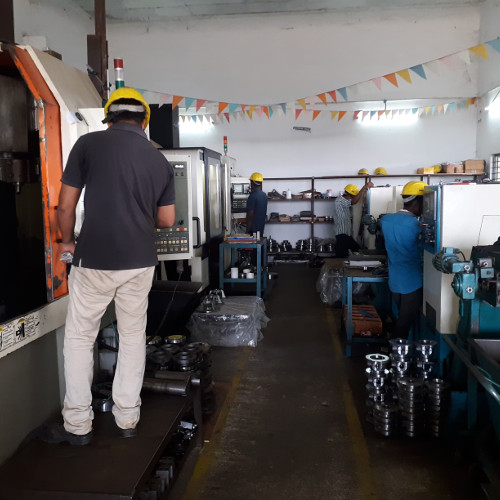 In House Machine Shop
CNC Turning Center - 2 Nos
CNC Vertical Turning Lathe - 1 No
CNC Vertical Milling Centre - 2 Nos
Trimass 0- 600 mm - 1 No
Granite Surface table (1000 x 1000 x 150) mm - 1 No
Hydrotesting Machine - 1 No
Computerised Number Punching Machine - 1 No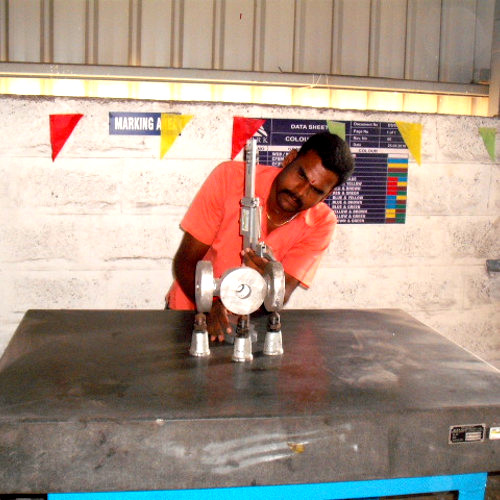 Casting Inspection facilities
Granite Surface Table Size 1200 x 900 x 200 mm.
300 mm & 600 mm Height Gauge. 300 mm & 600 mm Vernier Caliper with all measuring equipments.
Ultrasonic LCD Wall thickness gauge.
3000 Amps Magnetic Particle Testing Equipment suitable for prod, coil central conduction with flourocent method
Dye Penetrant Testing facility.
Radiography and Ultrasonic testing are outsourced at approved service providers.
RT, UT, MT, PT & VT evaluations are carried out by ASNT Level II qualified RRK Alloys NDT personnel.
Power System
500 KW EB Power available to run complete facility 24 Hrs
250 KVA & 20 KVA capacity Genset power back up.
Traceability
The Quality Team supervises the Q.A / Q.C aspects along the entire process system by identifying and associating with Quality Circles. RRK Alloys ensures 100% tractability throughout the organization by Heat Number.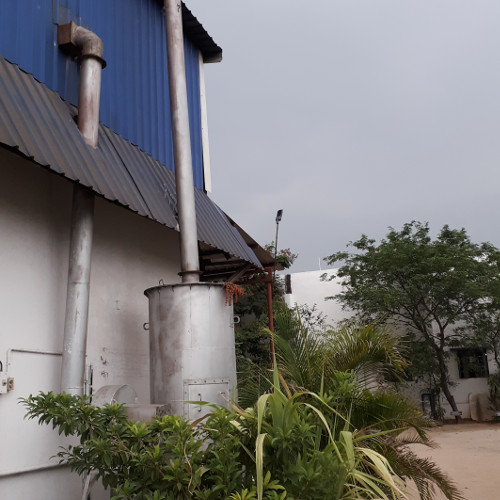 Environmental protection
As an environmentally responsible company, RRK Alloys complies with the environmental regulations advocated by the Government. As a result we have been provided with necessary the Pollution Clearance Certificate.